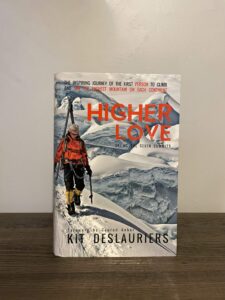 I felt like reading a book. And since I was putting my skis on their rack in my basement/sports equipment warehouse when I had that thought, I resolved that I'd find a good book about skiing. I looked around and decided on Higher Love by Kit Deslauriers, the first person to climb and ski the highest peak on every continent.
The book starts a week shy of her college graduation, where she adopts a wolf puppy. She then goes on to tell the story of how she met her husband, won 2 World Freeskiing championships (the second time with a miserable flu), 7 truly wild summit and skiing adventures, and finishes the book by giving the reader an inside look at her deepest feelings about being a mom and seeking high places.
I won't say more because I don't want to ruin the book for you, but I couldn't put it down! Kit is honest and vulnerable in her book and it was a fantastic read. Higher Love is full of great philosophies about finding peace, purpose, and happiness in the face of seemingly insurmountable challenges, and a backcountry adventure story so surreal you just have to read it to believe it.
Kit, a legend in her own right, tapped Conrad Anker for the forward, Jimmy Chin for some photography, and there's an appearance in her story from icon Dick Bass.
Even if you don't ski or climb, I still recommend Higher Love. Get it here on Amazon for the best price I could find and let me know what you think in the comments!