Outwitting the Devil by Napoleon Hill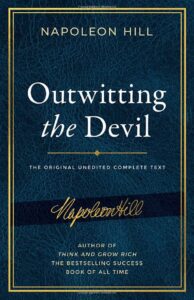 I heard about Outwitting the Devil watching a video a long time ago, bought it, and just picked it up recently. It's a good reminder on how fear, procrastination, anger, and jealousy HOLD YOU BACK.
​
Hill wrote this following his bestseller, Think and Grow Rich. If you have been the victim of lost courage, weakened enthusiasm, and lack of self-discipline – if you are demoralized by fear, anxiety, overwhelm, or apathy – the 7 principles to freedom detailed in this book will help you.
It has 729 4.5 out of 5 reviews on Amazon