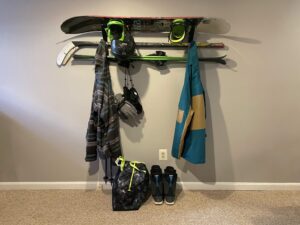 As I mentioned in a previous post, My basement is the storeroom for all of my sports equipment, it's also my office. I'm not a crazy athlete or anything, but it happens that the few activities I like have lots of stuff that takes up lots of space. I'll be the first to admit to you that I can't function in disorganized spaces, so I looked around for an organizational system for mine and my boyfriend's skis and snowboards. After a solid few hours of research, I bought the StoreYourBoard Ski and Snowboard Storage Rack.
I was really happy to find this rack, while I was looking around I saw a lot of really expensive options that didn't really seem any studier or nicer looking than the StoreYourBoard one. I liked that it was simple, came with drywall anchors, and that the instructions seemed very easy.
So I ordered it and waited for it to get to my door. When it got here I was immediately happy with how lightweight the rack is. Then I went to go mount it on the wall.
Installation…
To get the job done, I used a pencil, a big level, a phillips head screwdriver, and a power drill. The most complicated part of the process is that the brackets are not connected to each other in anyway, so you have to determine how far apart they need to be hung depending on where your bindings are mounted on your skis/board. I eyeballed it and it ended up completely fine.
If you already owns all of these tools, this activity is a level 1 of 5 on the difficulty scale. If you have to borrow the tools from someone to do this, it *might* be a level 2, but I say this as a very handy person. I found that it was a lot easier as a two person job than trying to do it myself. I was able to hold up the brackets where I wanted them, while my boyfriend marked where the screw holes needed to be.
In total, deciding where to mount the StoreYourBoard Ski and Snowboard Storage Rack and installing it probably took about 15 minutes. I found it to be very easy and most importantly, the rack is STURDY. You can see in the picture that I hung everything but the boots on this rack and it hasn't once wobbled. It's doesn't stick out too far from the wall which I like because I walk past it 10 times a day. I've very happy with the quality.
I would recommend this rack to anyone that wants to organize their boards/skiis. It's light, easy to install, sturdy, and inexpensive. Click to see the best price I found on Amazon.