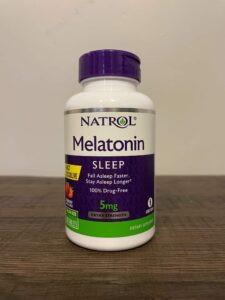 I struggle to get to sleep a lot of nights and historically, melatonin has never worked for me. Think that's because I tried the crappy Nature Made and Spring Valley brands that you can find at CVS. Then a friend recommended the Natrol Melatonin Fast Dissolve Tablets to me and though I was skeptical, I tried them and knocked the heck out.
I got the strawberry flavored ones and they taste decent. I tried a vanilla flavor before and wholly did not like it. The other thing that I really liked about these is that they dissolve in your mouth, you don't chew them. I know a lot of people don't like the chalky texture of Tums and Smarties candies when you chew them, so good news for those people.
After, I fell asleep quickly and easily and it was solidly restful sleep. I really can't say enough how happy I am with this product and I can provide some very solid evidence as to why.
A bit of background…
I grew up with a bit of a Mysophobia (germophobia) problem. As I got older I got much better at talking myself off the anxiety ledge and managing my discomfort, but as a kid it was a little out of control at times.
So when it became increasingly apparent that Covid was coming for the US, I handled it about as well as you would expect I did. My mom was worried about me with a capital W and I don't mind being honest about it. So for all of 2020, and a lot of 2021 I took quarantine very seriously.
But then in the summer of 2021 I had to fly with a friend. I was wildly nervous about being on a flight squished shoulder to shoulder with 187 strangers. As far as I was concerned we weren't even close to out of the woods with Covid.
So while sitting on a Southwest Airlines flight to Phoenix at 3:30 in the afternoon at absolute maximum anxiety, at my friend's recommendation, I tried the Natrol Melatonin Fast Dissolve Tablets for the first time and they STILL knocked me out even though I had enough adrenaline in my body to scale a building.
I'm a fan for life now…
For me, theres no better endorsement, I was at my least likely to fall asleep and these tablets were still effective. I slept restfully for the duration of the flight and have been a believer ever since.
Do note, that as with all melatonin products, if you use them every single night they will not be as effective. I use them on an as needed basis, not every night.
I have the 5mg ones because I like that I can try 5 and if I'm especially restless and thats not enough I can take another one without worrying. They also come in 1, 3, and 10mgs. The best price I can find on 5mg ones, is here on Amazon.
Lastly, a reminder for everyone that I am NOT a doctor, I didn't do pre-med in college, I don't have a sister that's a nurse, or a friend that's in medical billing. I have no professional or medical qualifications to tell anyone to use this product. This is just my personal experience as a person who struggles to sleep, who's health allows them to use melatonin to help with that problem.