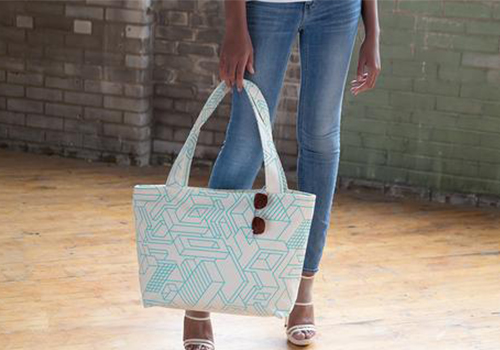 I've always held a soft spot for small businesses. Nothing is more inspiring than a person with a dream and the courage to pursue it. If only we could all be so brave. Tim Eads is an artist and fashion designer from Denver City, Texas. He now lives and works in Philadelphia, Pennsylvania.
Eads finds motivation in his desire to help people reconnect with their natural sense of wonder.
His work includes a line of tote bags that are bright, beautiful, and geometric. Great to take with you on a day or weekend trip or just to take your laptop to and from work.
Bottom line, Tim Eads does not make bags for boring people. In addition to his totes, he also makes smaller bags. They could be used as change purses or pencil cases.
Every bag is hand sewn in Philadelphia USA. They're made from different sections of a giant fabric swatch. This ensures that every single bag is completely unique. There is no mass production and he changes up his color schemes and patterns regularly. This means each bag is part of a limited edition series.
While you're on the site shopping for yourself, you can also grab one of the graphic tee's available. His shirts and bags make great statement pieces.
Go ahead and brighten up your closet while letting Tim Eads help you reconnect with you sense of wonder.
Check Tim's work out online here, also at 5×5 Gallery here
Subscribe here today to get your free shopping cheat sheet delivered monthly!
Art, Artist, Canvas, Denver City, High Quality, Pennsylvania, Philadelphia, Review, Small Business, Texas, Tim Eads, Tote, Tote Bag, USA