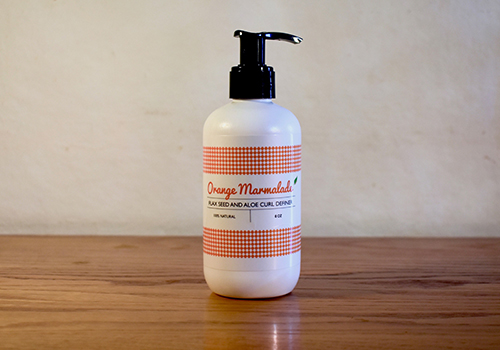 As I've written about before, I'm trying to encourage my hair to become healthier and to wear it with its natural wave. I have color treated hair and I'm not very far along in terms on time spent away from heat tools and sulfates. So my hair still isn't at its best. I still have a long way to go so I need a little extra help to make it look presentable. When it comes to styling products, Ecoslay Orange Marmalade is a huge lifesaver.
Orange Marmalade is a flax seed and aloe curl defining gel that you scrunch into your hair. Every bottle is handmade in a small batch by the owner of the company in her kitchen. So you can be sure you're getting a 100% non synthetic, organic, natural product.
Besides the product being great for the environment, it's also great for your hair. More often than not I've found that eco-friendly products are ineffective. Thankfully, that is not the case here. There are exactly ten ingredients in this product. The first one being flax seed extract, which is a protein rich substance. Hair is protein, so no product is going to offer better or shinier hold than a product packed with it.
I have a hard time hanging on to any curl definition past day one of washing my hair because it's not as healthy as it can be yet. But when I use Orange Marmalade I have SOFT well defined curls well into days two and three. I do lose some shine, but I suspect that has more to do with the fact that its winter on the east coast. It is cold and DRY. I also toss and turn in my sleep like a crazy person so all that friction causes some frizz.
The scent of the gel isn't too strong which is nice. I've tried out a bunch of curl products that have very intense smells. I stack three or four products on top of one another and all the perfumes together can turn into way too much very fast.
Bottom line, this Ecoslay product will give you a rock hard cast and bouncy fluffy curls. Its worth every penny! Make sure you unscrew the pump and flip the bottle over when you think it's empty. There will definitely be plenty of product left in the bottom.
Subscribe here today to get your free shopping cheat sheet delivered monthly!
#CurlyGirl, #CurlyGirlMethod, Beauty, Black Owned Business, Cast, CGM, Conditioner, Curls, Curly Girl, Curly Girl Method, Eco, Eco Slay, Ecoslay, Flax, Flax Seed, Flax Seed Gel, Gel, Gel Cast, Hair, Hair Care, Hair Gel, Health, Healthy Hair, Made in the USA, Natural, Orange, Orange Marmalade, Organic, Protein, Review, Scrunch, Scrunch Out The Crunch, Small Business, Styler