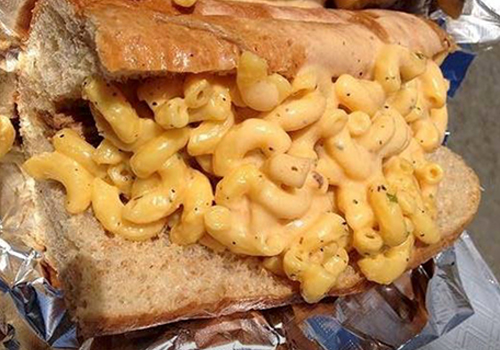 The best sandwich I've ever had was from the Gouda Boys food truck at a music festival I went to in 2014.
The Gouda Boys food truck travels to different music festivals around the country. They sell steak sandwiches that are COVERED in mac and cheese.
Their sandwiches have chunks of thick cut steak. None of that shaved beef you would use in the cheese steak. Then, they top it off with macaroni and cheese. Then more of their signature smoked gouda cheese sauce made from scratch.
Keep an eye on their Facebook and Instagram pages to see what festivals they'll be at next. When you find them and try one of these life changing sandwiches, you'll thank me.
Be aware ahead of time though, that like many food trucks, they only accept cash.
Follow them around on Facebook!
Subscribe here today to get your free shopping cheat sheet delivered monthly!
Asiago, Cheddar, Cheese, Cheesy, Delicious, Flank Steak, Food Truck, Gouda, Grilled Cheese, Grilled Steak, Mac and Cheese, Macaroni and Cheese, Man n' Cheese, Mozzarella, Music Festival, Parmesan, Reggiano, Sandwich, Steak, Sub, Swiss