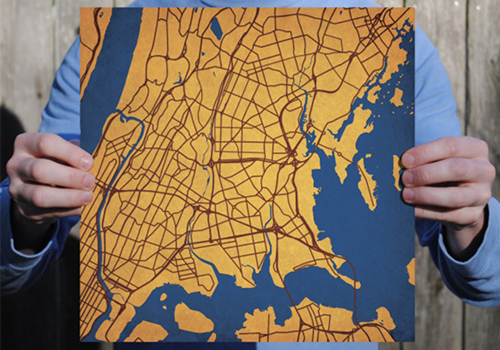 If you asked me where you could find unique art to hang on the wall, I would point you in the direction of City Prints.
The shop sells beautiful and colorful maps of hundreds of popular cities. They have maps of your favorite football team's stadium. They have maps of your alma mater's campus, and maps of several US military bases.
You could also order a map of your favorite constellation or a computer schematic.
On the off chance you can't find what you're looking for, you can also order a custom piece.
My favorite options though, are the maps of fictional cities that they have available. A couple years ago I purchased a maps of Gotham, Bludhaven, and Metropolis as a gift for my brother. He LOVED them. He knows what they are and they're meaningful to him, but they're also not super obvious and nerdy over-the-top items. The maps fit in in a polished adult home so when he grows up he can still keep them.
In my home, I have a black and white map of my home city. I also got maps of the cities where my mother's and father's families are from in Europe. I've gotten endless compliments on how cool of an idea they are.
On top of having an awesome product, City Prints is a family owned and operated US company. The email updates they send out are heartwarming and personal. They also convey the Rodono family's deep appreciation for each customer.
I'm looking forward to my next placing my next order!
Check out them out online at CityPrintsMapArt.com
Subscribe here today to get your free shopping cheat sheet delivered monthly!
American, art, City Prints, custom, Decoration, Decorator, Design, Etsy, Family Owned, Frame, Made in the USA, Maps, Personalized, Review, small business, Wall Hanging