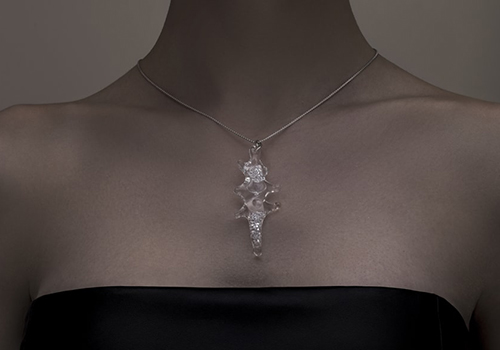 We can pin this on our boards for future purchases. But this artist's creations are just too incredible not to tell you about. Beau Han Xu creates barware, glassware, jewelry and art inspired by the shapes created when water splashes against a surface.
And THEY. ARE. SO. PRETTY.
In a unique metal free construction process that only he knows how to do, Xu crafts hollow glass forms. Then he fills then with fluid and diamonds to create an object in a perpetual state of motion. The pieces look like the sparkliest, most complex snow globes you've ever seen.
His work is stunning in every way
His portfolio is full of masterpieces. My favorites are the splash necklaces. The shapes are so full of movement and are in stark contrast to the static surfaces they sit on.
His line of jewelry, blends seamlessly. The organic shapes are very complementary to the human form. His work is whimsical and dramatic and above all else a pleasure to look at.
Check out his work online here
Subscribe here today to get your free shopping cheat sheet delivered monthly!
Art, Beau Han Xu, Beautiful, Crystal, Crystals, Diamonds, Glass, High Fashion, Jewelry, Review, Splash, Water