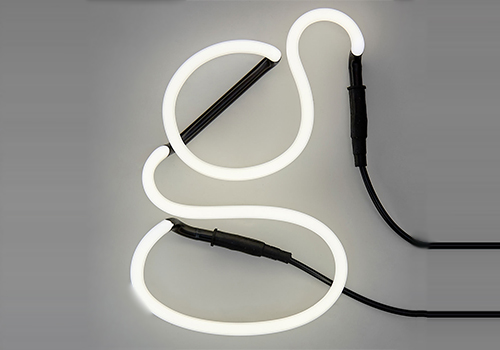 Every house has a few special pieces of home decor that really capture the spirit of those who live there. Whether you live in a tiny urban apartment or sprawling estate, these are the items that make a house a home. In my home, bare walls are the real enemy so I go out of my way to collect interesting things to put on my walls. One of my favorite pieces is my Seletti neon letter "g" lamp from Jonathan Adler.
It's 6.5 inches tall and it hangs of a side table. There's no better place to find awesome, funky, fresh home decor. The store is an expolsion of color. Each location has a vibrant, diverse, abundant showroom. They also have knowledgeable staff to help match each person to the perfect pieces.
Something for everyone…
Fancy yourself a feminist? Perfect! You'll go home with Allison Kunath's, "Gloria Steinem".
Think the 70's are groovy? Right on brother, you'll find something from their line of lucite sculptures.
Does your heart reside in the City of Light? Magnifique! The Muse kitchenware series is just for you.
Think I've exhausted all the possible design directions? Nope, not even close!
Were you King Midas in a previous life, but still like things soft and cushy? Jonathan Adler has still got it, check out the Talitha throw pillows.
So many different options for every type of person and an item for every budget! They've even partnered with Speck to create some out of this world phone cases.
If you aren't local to one of their 26 locations, you can check them out online below!
Jonathan Adler, shop online here.
Subscribe here today to get your free shopping cheat sheet delivered monthly!
Allison Kunath, Art, Decor, Design, Dishes, Furniture, Georgetown, Gloria Steinem, Home, Interior, Jonathan Adler, Kitchenware, Phone Case, Pillows, Review, Sculpture, Seletti, Shopping, Side Table, Speck