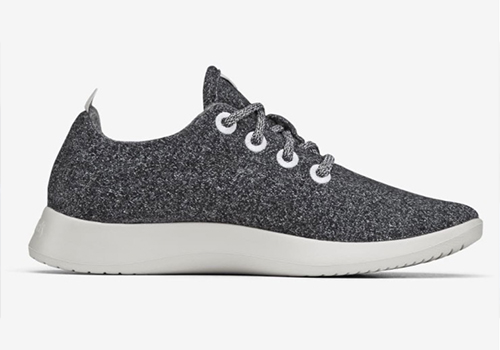 I found the best tennis shoes. (read: my boss, Brandon who I write this blog with, found the best tennis shoes and told me about them.) Now that's a bold statement so I'll jump right to it- Allbirds.
These heavenly shoes are made of 100% New Zealand Merino wool that's spun in Italy. Some of the benefits of making shoes out of the finest wool include but are not limited to:
– exceptional comfort
– moisture wicking
– odor minimizationand
– temperature regulation
Another really great selling point for me is that the runners themselves are pretty minimal in design and very modern. There are no flashy logos, or reflective strips or anything tackey like that.
So you can dress them up or down just as easily.
They are so outrageously comfortable that you may forget that they aren't slippers if you're not looking at your feet-
I've owned mine for around a year and I love them just as much today as the day I got them. They still look nice and new, they don't have any holes or areas showing visible wear or frayed seams.
I refuse to get on a plane in any other shoe.
For reasons I won't bore anyone with, I was on my feet moving around for 31 hours in them once and my feet didn't start to get sore until around hour 28.
The icing on the cake- they sell for 90 USD.
In addition, when the insoles start to lose their spring, you can buy replacements for 25 bucks. Just slip the old ones out and slide the new ones in.
Talk about reducing your carbon footprint.
The company is branching out. Now they have a line of slide on lounge shoes. Plus a line of runners and lounge shoes made out of summery and breathable eucalyptus tree fibers
There is a global wool shortage right now. Major news outlets are calling it the "Allbirds Effect" go get them while you can!
Check them out online at Allbirds.com
Subscribe here today to get your free shopping cheat sheet delivered monthly!
Tennis Shoes, Wool, San Fransisco, Tree Fiber, Italian Shoes, Merino Wool, New Zealand, Comfortable, Fair Trade, Fashion, Shopping, Unique, Ethical, Environmentally Friendly