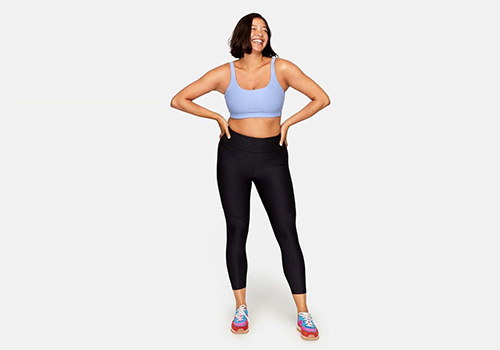 I found your next pair of leggings for you. They come from a company called Outdoor Voices. Oprah wore them on a magazine cover. Celebrities are seen out and about in them. The owner of the company, Tyler Haney, hangs out with Elon Musk.
They know that the fun is whats really important…
At the company they focus on the fun side of being active,
like the sense of comradery you build when you engage in group activities. That's part of the reason they organized The Recreationalist and OV Hikers Club.
They don't focus on the pressure to perform. Or the idea that unless you're a professional athlete, there's no point in trying like many larger athletic wear companies do.
In their own words, Outdoor Voices makes "Technical Apparel for Recreation".
The leggings are made out of a textured compression fabric. It's designed to feel comfortable regardless of the temperature. It also wicks away any sweat.
***Also they aren't see through when you bend over.***
Leggings sell anywhere from 70-95 dollars. Tops sell anywhere between 40-60. The quality and prices rival that of Lulu Lemon and Athleta.
If you ask me they're far more exciting, than competitors designs. Most of the designs feature color blocks and panels that are cooler than plain leggings.
I have the slash back crop, which I wear as a shirt, but is just as great as sports bra. I also have the warm up leggings, the double time bra and a couple other items, but that was my first order.
For me a big indicator of the quality of the product is that you can sit down on cement and the fabric wont pill. I've had those items I mentioned above for 3 years. NOTHING has stretched out or shape, none of the seams are pulling, they aren't faded. Outdoor Voices stands the test of time.
Coming Soon:
I'm BEYOND excited for the swimwear line they're about to launch as well.
If the awesomeness of the clothing they sell is at all indicative of the things to come, I'm about to have a new favorite bathing suit.
Did I mention the free shipping all the time? Not the crappy shipping either like the 4 day good stuff.
**Disclaimer: Outdoor Voices Leggings are an absolute MUST for getting on a plane and flying for any amount of time**
Check them out online at OutdoorVoices.com
Subscribe here today to get your free shopping cheat sheet delivered monthly!
#doingthings, Activity, Athleisure, Athletic, clothing, Cloud Knit, Crop Tops, Dog Walking, Fitness, Hiking, Jacket, Leggings, MegaFleece, Merino, Oprah, Outdoor Voices, Outdoors, OV, Recreation, Review, Running, San Fransisco, shirts, shopping, shorts, Spinning, Sports, swim, T Shirt, TechSweat, Tennis, The Recreationalist, Trendy, Warm Up, Yoga