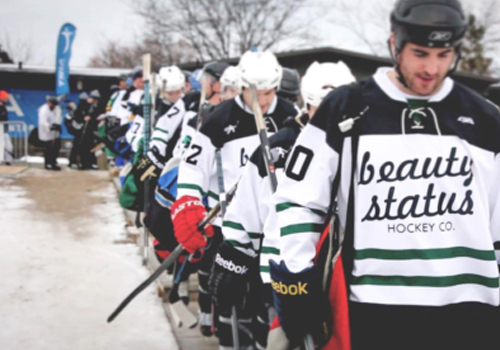 Does somebody near and dear to your heart play hockey? Are you an awesome gift giver, always in search of good hockey themed gifts that aren't cheesy? I'm here to recommend Beauty Status Hockey Co.
Bear with me they don't sell makeup.
One of the reasons the e-store so cool is that every item they sell is creative and unique, no official NHL branding. Your love of the game will still be on full display though, in a much chiller stylish way.
I've given many gifts from Beauty Status, over the course of a few years. Everything is always very well designed. I like the graphic tee shirts, the designs are always very original.
The whole brand embraces a super laid back lifestyle…
Beauty Status is a lifestyle brand, so everything they sell is great to wear to stick and puck or day to day. Their jackets are some the warmest and softest I've ever worn.
They have a full line of clothing and accessories including a couple home items. My favorite are the hats. I love hats, these are made out of super nice material and are really comfortable.
A quick look at the shop's site will tell you that it's homegrown in Minnesota, the land of 10,000 rinks, in 2009. So you can feel good about supporting a small business.
Next time you're looking for a gift for the hockey lover in your life, check out Beauty Status Hockey Co.!
Check them out online here!
Subscribe here today to get your free shopping cheat sheet delivered monthly!
Beauty Status, Beer, Beer League, Clothing, For The Boys, FTB, Hat, Hockey, Hockey Lifestyle, Hoodies, Ice, Ice Hockey, Lifestyle, Off-Ice Gear, Pond, Puck, Review, Rink, Rink Rat, Small Business, Stickers, Style, Sweatshirt, Winter, Wristbands, Wristies