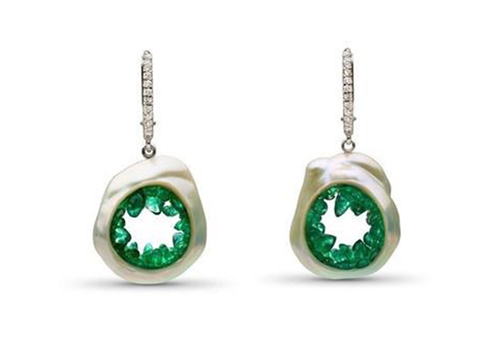 I like creative, out of the box jewelry. The only "classic" thing I care for are cars. So I've almost never liked pearls, the staple of 1900s, for any reason. Pearls were rare once. Then pearl culturing became widely popular in the 20th century. Therefore, production rose to meet the demand. I've never owned pearl earrings or a pearl necklace and I have never wanted to. I prefer things that sparkle. Little H Jewelry however, has a collection of pearl and gemstone jewelry. They give the wearer the best of both worlds. And theres nothing dated about it.
Here's the twist…
I don't mean pearls and gems on the same strand or that they share a setting. I mean jewelers painstakingly slice freshwater soufflé pearls in half. This creates a concave surface inside the pearl. There craftsmen place rubies, emeralds, and sapphires, among other stones.
The finished product looks like a tiny geode.
Little H aims to remain environmentally friendly. So the founder, Hisano Shepard works with vendors to source recycled gems.
Each piece is organic, whimsical and futuristic at the same time.
The company boasts explosive colorful designs and more understated monochromatic options as well. Either way each piece is decadent.
For the quality of work and creativity of design, her prices are extremely reasonable. Little H is a fantastic source for high end jewelry.
Find them online here
Subscribe here today to get your free shopping cheat sheet delivered monthly!
Art, Artist, Beautiful, Colorful, Diamonds, Emeralds, Gems, High End, Jeweler, Jewelry, Little H, Little H Jewelry, Pearls, Precious Gems, Precious Stones, Review, Rubies, Sapphires