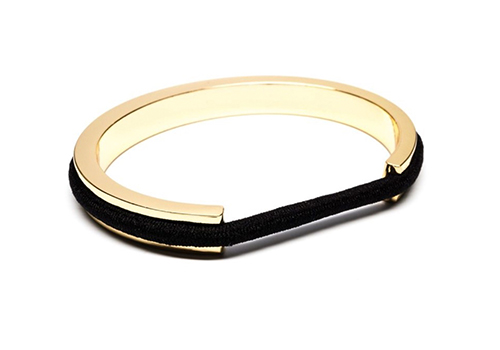 We've all heard it a million times from our moms and medical professionals. "Take your hair tie off of your wrist!" It's not a ridiculous request, leaving them around your wrists isn't fantasticfor your circulation. So they tell you to put hair ties in your bag, but they're small, so they so they end up on the bottom of whatever you put them in. To solve this problem, Shireen Maria decided to share a thoughtful gift from her husband. He just wrote her name wrong when he gave it to her and Maria Shireen was born.
(He did write her name in Arabic, a language he does not speak)
Here's the genius gift idea he came up with…
A smartly designed open cuff bracelet with a channel in it to hold your hair tie.
She's responsible for the creation of a large collection of functional accessories for every style and price point.
Made out of high quality materials like stainless steel and silver, the bracelets are durable. The cuffs make great gifts for anyone who uses a hair tie. They even come with the option to engrave them. They're highly customizable for anyone you would want to give one to.
The site also features a bridal collection. In my opinion, this is one of and most thoughtful bridal party gifts EVER. Maria Shireen's bridal collection comes with free engraving on the inside of the bracelet as well.
This way everyone will have an item perfect for everyday use, and a special memento from an important day.
Of course, you could just purchase one for yourself and get your mom off your back about it once and for all.
Subscribe here today to get your free shopping cheat sheet delivered monthly!
Bracelet, Cuff, Gift, Gold, Hair Tie, Maria Shireen, Pony Tail Holder, Review, Shireen Maria, Silver