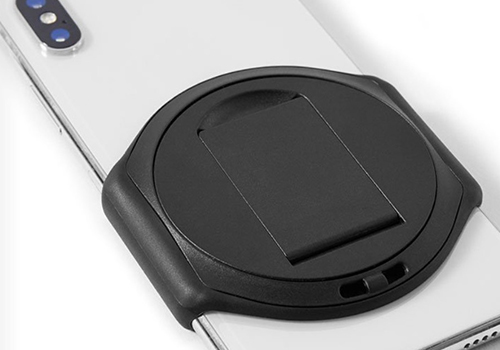 In a market of around 6 billion options, ZeroChroma stands. For me, getting their whole device system was an easy choice.
All the important boxes that need to get checked when choosing a case are satisfied and then some.
ZeroChroma cases are shock protective for your device and almost indestructible themselves. They're made from a grippy, non-slip material. They're textured as well. This serves as a preventative measure against dropping your phone or iPad in the first place. Cases are also thin enough to be compatible with Qi wireless chargers.
ZeroChroma cases replace the need for juvenile accessories like PopSockets. The 360°Unlimited Angle Stand rotates and folds out to support your device however you choose to set it up. The stand can also fold out for added grip support.
In addition to cases, the company offers armband, car, and wall mounts.
All their accessories are compatible with all their cases creating a complete system. ZeroChroma ensures that attaching your phone to various surfaces is as secure as possible.
My favorite is the car mount. It attaches to the air vent in your car so as to not block your view out of the windshield. It's designed so that the phone itself is out to the side so that the AC doesn't get blocked.
The armband is the most stable one I've ever used for jogging. Other bands I have tried slide down my arm.
Finally, there is the wall mount which, if I'm being honest, I didn't think I would ever use.
I found a place to put it and now I use that one about as much as the car mount.
Its on my bathroom mirror. This way when I'm getting ready to leave the house I can check emails or answer phone calls hands free. I don't have to risk sitting it on the sink where it could get wet or pick up even more germs than cellphones already have.
All the cases and mounts are very sleek and futuristic looking. ZeroChroma is a fantastic choice for people who are looking for a better way to use and protect their devices.
Get your new ZeroChroma case now!
Subscribe here today to get your free shopping cheat sheet delivered monthly!
Baltimore, Car Mount, Cell Phone, iPhone, Phone Cases, Review, Small Business, Wall Mount, ZeroChroma