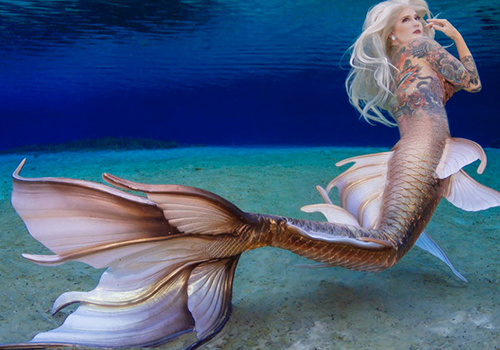 This one is for all of you who swear that you're mermaids. Time to take out your wallets and prove it. For around 120 bucks you can outfit yourself in the best mermaid tail on the market. Eric Ducharme's Mertailor offers a variety of beautifully designed mermaid tails.
If none of the ready to ship options grab your eye, you could always opt to create a completely customized tail.
If you choose to do that, you'll get to work with Eric himself.
Now that you've got your new tail, you can sign up for a class to learn how to use it:
The tails are fully functional, they're not only for show. Give the wearer maximum underwater propulsion is the goal of each and every tail.
Once you've gotten your tail you have the option to book a class with the Mertailor creator in Florida to learn how to use it. Everyone wants to be a mermaid. No one wants to acknowledge the fact that in order to be a mermaid, you've got to be prepared for the ab workout of you life. A quick class on form and function will definitely give some insight on how to make things easier for yourself.
The site also offers leggings and swimsuits that are mermaid and scale inspired. That way your love of all things under the sea can stay with you while you're on land.
Check out he tails and other items online at TheMertailor.com
Subscribe here today to get your free shopping cheat sheet delivered monthly!
Florida, Fun, Leggings, Mermaid, Mermaid Tails, Review, Small Business, Swim, Tail, Under The Sea